Share the post "3 Ways Receiving Helps You Become A Better Giver"
To give is to receive.  To receive is to give.
How well do you receive from others? What are your beliefs about the value of receiving?
I have always been a giver. As a kid, I liked to be helpful – the friend who always was there to listen to others, the student who volunteered on this committee and that. As an adult, I went on a natural path to become a helping professional and graduated with a social work degree in my early twenties. Later in my thirties, I also certified as a life coach. Helping and giving are things that have always felt valuable and important to do.
Lately, I have been thinking (and learning!) a lot about receiving and how it is an essential balancing component to giving. For example, recently during a very challenging time in our family, many friends stepped forward to help us out.  Our first instinct was to reject their offers of help, saying things like "we will be fine" or "we will deal with it", etc.
However, slowly I realized that I was blocking the flow of goodness and abundance coming our way through my resistance to receiving help from others.  I began to do some deep self-reflection and journaling around this and emerged with a greater understanding of how receiving is ultimately a fundamental aspect of giving.
I have learned (or remembered) that…
Giving is a virtue that gets strengthened by our capacity to also receive.
Here are 3 ways receiving from others can make you (and me) better givers:
1) We become catalysts for the full cycle of giving and receiving (a giver needs a receiver and the more we participate in receiving, we automatically learn more about the nature of giving too.) 
2) When we receive wholeheartedly and gratefully from others, we have the opportunity to strengthen our connection and relationship with that person.  We are giving a part of our vulnerability and needs to that person (which is strengthening us as both the giver and the receiver.)
3) We participate in cultivating a sense of being in this life together – all doing our best to grow, thrive and succeed.  Giving and receiving breaks down isolation and puts us in community with one another.
 
What does receiving mean to you?
To receive love, care, help, support, listening and guidance from others, is the balancing act of giving to and serving others. This balance is at the heart of abundance and love and making a difference.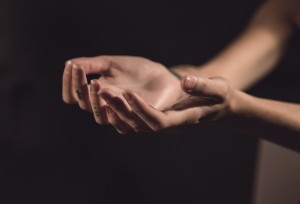 When you reach out your hand to hold another's hand, that person must receive your reach in order for your giving to be complete. When goodness is coming your way (in the many forms it wants to reach you), it can only be fully experienced when you are willing to receive it. We must take the hand of what wants to be given, in order to receive it into our lives and hearts.
Imagine a caregiver, parent or teacher who only gives without ever receiving some rest or support or encouragement? Imagine a helping professional who gives and gives to support and help others, yet might not tend to his or her own needs for replenishment? Such an imbalance of giving without receiving is the recipe for burnout, depletion and exhaustion.
We can receive from others and from the world around us.
There are also ways to receive from within. Ways to quiet all the doing and turn within for quiet, stillness, and replenishment. 
How do my musings on giving and receiving relate to writing for wellness?
Writing and journaling are transformational ways of receiving. While you quietly give your words, ideas, stories and heart a voice on the page, this taking time to write and express your thoughts and feelings has a way of also filling you up. Filling you up with a sense of calm, inner peace, greater clarity, creative inspiration and more!
Affirmations for Receiving…
I allow myself to receive everything I need in this moment.
I receive as an act of faith in an abundant and giving universe.
I am open to receiving all that I want and need and desire.
Receiving is a virtue that strengthens both the giver and the receiver.
I receive with grace and gratitude.
It feels good to give and receive.
I receive amazingly well and my life is expanding in meaningful ways.
Reflective Journaling Prompts for Exploring Receiving in Your Own Life
How often do you receive from others? 
What do you receive most easily? (for example; love, gifts, gratitude, etc.)
What do you find it challenging to receive? (for example; compliments, financial help, praise, etc.)
When do you ask for help or support?
How do you give to yourself?
If you think of receiving as the healthy balance to giving, what do you notice? Any thoughts, feelings, ideas, reactions?
"You've discovered a wellspring, simply allow it to flow and it will fill your world. Don't try to keep a safe distance so as to see what happens. Don't wait to be certain before you take a step. What you give, you will receive, although it might sometimes come from the place you least expect." 
~ Paulo Coelho, The Witch of Portobello