Share the post "6 Tips for Turning Your Journals into a Memoir"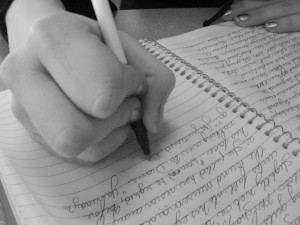 In one of my recent Writing for Wellness courses, a student spoke of her desire to turn the content of her journals into a book, as she wants to write a memoir. I, too, am in the midst of mining my journals for raw content while writing my adoptee memoir. Maybe you are a journal writer and also have dreams of writing a memoir?
Here are 6 tips for turning your journals into a memoir:
Know the difference between autobiography and memoir – autobiography is a story of a whole life, whereas memoir is about a piece of your life (a particular time frame, theme, turning point, etc.).  A memoir can happen during a defined period of time (i.e. 6 weeks as is the case in Hope Edelman's memoir, The Possibility of All Things) or around a specific theme  or turning point in life (i.e. Eat, Pray, Love by Elizabeth Gilbert), etc.
Identify the core themes and the message of your memoir – a theme includes the subject(s) being covered (for example, in my adoptee memoir in progress themes include adoption, mother loss, mother love, Catholocism, identity, family, healing the abandonment wound, nature vs. nurture, chasing losses, empowerment and the power of letting go) while your message is the main learning or take away that you want your reader to have. Ask yourself, what do you want your reader to learn from reading your memoir?
Ask yourself, what is this story/memoir about?  You can then re-read your journals looking for things that are relevant to the specific topic of your memoir.  Maybe you are writing about a time in your childhood, your journey with cancer, a divorce, a life changing trip, etc. – whatever the topic or focus of your memoir, you can find relevant content in the pages of your journal.  For example, I was writing in my journal in the moments just before the doorbell rang when I met my birth mother for the first time.  All the raw material in the pages of my journal, from that significant moment in time, now is informing and integrating into my memoir.
Consider your audience – with memoir you are writing not just for yourself, but for your reader too (product writing.)  With journaling you are writing for yourself, first (process writing.)  As you go through your journals to help inform your memoir writing, ask yourself, what parts of this writing are important for your reader?
Remember, memoir is a form of creative non-fiction – which requires writing a true story using the skills that are typically considered the skills of a fiction writer – plot, character development, dialogue and more.
Start small and trust your writing – writing a book can feel daunting and overwhelming.  By defining the scope of your memoir, it helps you to find the relevant material within your journals.  All books ultimately get written word-by- word.  The main thing is to start and keep writing.  The writing itself, whether in our journals or otherwise, often teaches us where the writing (the story of our lives) needs and wants to go. 
Always keep the heart of the story, the heart of you as the writer and the heart of your reader in mind!  Transformative writing begins with the heart.
"Writing is not simply self-expression.  Writing is a way to seek lines of connection and intersection with others, to compose creative and lively possibilities for living stories, for making up stories, for revising stories, for turning stories inside out and upside down so they are always transforming and transformative."
~ Erica Hasebe-Ludt, Cynthia M. Chambers & Carl Leggo