Share the post "What does the heart remember? Writing to heal."
Modified excerpt from the pages of my journal…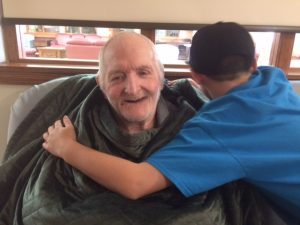 My youngest son, Jesse (age 9), and I visited family and friends in London, Ontario this past summer.  While there, I held my father in my arms.  He has lived with Alzheimer's disease for many years now.  His world is confined to the u-shaped hall of his "neighbourhood" in the care home where he lives.  He has a single bed in a double room.  He shuffles, with help, between his bed, a couch in a room off the main lounge (as his loud singing and talking to himself disturbs others) and the dining room where others, "like him" eat, drool on themselves, sing out loud, talk to themselves, mutter, cry, scream and otherwise negotiate the failings of their minds and bodies, alone and together.
As I sat with my father, holding his hand in mine, I wept.  I cried not only because of the ongoing sadness I feel in losing him this way, but I was also moved to tears from the immense gratitude and love that I felt for him in that moment.  I feel grateful for this wonderful man, my father, who raised me and loved me unconditionally.  This man who would regularly take me and my brother for pizza; let me drive his John Deer tractor when we cut the grass; let me help him pick his 6/49 lottery numbers week after week, year after year; had me sit beside him on Saturday nights to eat popcorn (and the candy he had hidden under the couch) and watch the Lawrence Welk show.
And just like all those years ago, last week, I found myself doing the very same thing…sitting beside him on a couch.  This time it was me feeding him a treat (a chocolate ice cream sundae).  I thought to myself, here he is, still sitting beside me, letting me love him, long after his memories of all our shared moments are gone, long past his recognition of who I am, or who is grandson is, here we are sitting with what only the heart can remember. 
At first Jesse cried too when he saw his Papa.  He was sad that his Papa didn't call him by name or hug him back, or show any excitement to see him after two years apart.  I cried too.  My mother quietly cried beside us.  There were no words needed for the grief and understanding moving between us. 
Then we wiped our tears and got down to the loving care of feeding my father his lunch (which arrived after he had the ice cream).  Eating dessert first is one of my favourite childhood memories (in part, because it only happened once when my Aunt Barb gave me a box of chocolate macaroons to eat while she was making us dinner).  
My Dad can no longer hold utensils or eat solid food.  He no longer has teeth because he lost his dentures too many times…in between the cushions of the couch, in the hallway of the care home, and sometimes in the bed of someone's empty room, too confused to find his way back to his own room and bed (they all look the same!).  It is hard to keep a person's name, as it turns out, on a pair of false teeth, it is easier to label his shirts and socks and pajama's… he doesn't lose too many of these items (the people who do the laundry can find him by name and room number.)  His teeth, however, are now considered permanently missing and will stay that way for the rest of his life, because no one is looking for them anymore.
No one looks for my Dad anymore either, except us…his family.  Lifetime friends don't visit him.  They say "it is too hard to see him this way."  Family don't come to sit with him, except my mom, me, my children and my brother.  Friends say things like, "what is the point of visiting him, he doesn't remember who I am?" or "he is too far gone."  Others say they, "want to remember him the way he was," as if he is already dead.  Living with and dying of dementia, from what I have seen, is often a very lonely experience.  It seems while my Dad can no longer remember or recognize people (by no choice of his own), some people are choosing to forget about him. 
I wonder, without judgment (although with some sadness), if they are missing out?  Missing out on my Dad's smile, that still lights up a room.  Missing out on the sound of his singing out loud, throughout the day at random, hitting beautiful high notes.  Missing out on hearing him drum his hands against the couch, the still remembered music of Glenn Miller.  Maybe they miss out on the privilege of loving him just the way he is now.  Isn't that what we all want in this life?  To be loved just the way we are.  Yes, it's hard.  And it's easy, if we let it be.
How many times do we miss out on what is right there for us to embrace and experience and enjoy and be with?  I have been thinking about this a lot since being with my Dad last week.  It made me realize, he can still teach me things.  His current circumstances, can teach me more about compassion and the nature of love.
I know that my Dad felt us loving him during our recent time together. I saw the flicker in his eye, not of recognition, but of love.  I saw him smile when Jesse gave him a big hug (see photo). I heard him laugh when he mumbled something funny that was not understandable or audible in any way, but his belly laughter said it all.  I felt him soften and relax, as I rubbed his back.  In other words, I heard the language of his heart and mine, when we were together.
Reflective Journaling Prompts:
Is there something or someone in your life that feels "too far gone" that you want to reclaim or show up to at this time?
Is there anything you have not done in a long time, something you love, that has been forgotten in the busyness of daily life – that you might like to remember (or do) at this time?
What does your heart remember as some of your favorite memories in your life so far? Write about what first comes to mind. Don't overthink it!
"The best and most beautiful things in the world cannot be seen or even touched.  They must be felt with the heart."  Helen Keller