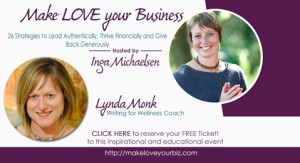 What does love have to do with business?  If you are a heart-based purpose driven entrepreneur or helping or healing professional, love is at the heart of everything we do in some way.
I am a speaker on this innovative and inspiring summit called Make Love Your Business, hosted and created by Inga Michaelson.  This summit really has me thinking a lot about the role of love in my business and the purpose of love in our lives.
I intentionally infuse love into every part of my business…
when I write and send a Creative Wellness Museletter, I close my eyes and set an intention that my words and offering will touch the receivers heart in some way (be meaningful, add value)
when I host a workshop or retreat or group coaching program, I hold the vision that the work will nourish people, inspire, and raise their commitment to self-care, self-love and self-expression
when I care for myself, really show up to love myself in self-accepting and compassionate ways, I know that love has a ripple effect into my family, who I am as a wife, a mother, a daughter, a helping professional, a creative being – self-love is a gift we give to ourselves that ultimately impacts others too
Why love?
love heals, it is a high vibrational frequency emotion that changes the world and the cells in our bodies (this is a scientific fact) – look up HeartMath, Google "love and healing", or simply look within and find the evidence of this truth in your own lived experience, in your heart
love is the soul consciousness raising
love connects us, reminds us we are all in this life together
love helps us take risks
love opens us to greater possibilities
love teaches us that we are enough, that worthiness is our birthright
love is at the heart of all transformation and growth
"love is all there is"
Reflective journaling prompts:
How do you infuse love into your business or your work in the world?  Why does it matter?
How do you honour and nourish self-love? 
How can you "make love your business?"
If you could expand how love leads the way in your life and work, what would you do differently?
With love, Lynda